Heat Pump Repair
Eliminate Home Safety Risks with Expert Heat Pump Repair Service
Heat pumps offer year-round comfort while consuming up to 50 percent less electricity to heat your home. The biggest advantage of owning a heat pump is the added efficiency it can deliver. However, when this benefit is removed, be sure to reach out to a professional HVAC specialist right away to help prevent higher energy usage and bills. A certified technician is familiar with how your Trane, Ruud, Rheem, Carrier or Lennox system works and can quickly detect and repair any compromised components.
Your Best Source for Heat Pump Repair in Oregon
If your heat pump compressor is broken, the refrigerant will not run through the coils and your system will not properly heat or cool your home. Screeching or groaning sounds are usually an early warning sign that your compressor motor may be on its way out. The compressor can also become overloaded from a bad connection, which will then prevent your heat pump from powering on. If you call us early enough, Schneidecker Heating and Air may be able to repair your heat pump compressor without having to replace it. Our team of highly skilled and trained technicians has all the necessary equipment to troubleshoot your problem and determine if you require any of the following repairs: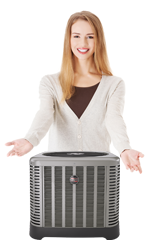 The refrigerant needs to be recharged to its regular level
The wiring or terminals need to be repaired or tightened
The circuit breaker needs to be replaced
The mounting bolts on your unit need to be tightened
Rusted bolts and nuts need to be replaced
The filter needs to be changed
If you are located in Newport, Lincoln City, Toledo, Oregon or the surrounding areas, and require quick heat pump repair services, only trust a factory-trained technician to tackle the job. You most likely paid a significant amount of money for your heat pump system, so why risk having it fixed by anyone other than an industry expert?
Schneidecker Heating and Air can help you avoid any shortcomings and expensive repair costs by properly assessing and restoring your unit to its original condition. We are a family-owned-and-operated business with over 15 years of HVAC experience. This means you can always count on us for straightforward service and quality workmanship.
Contact Schneidecker Heating and Air at 541-265-3030 to schedule your appointment for heat pump repair services. You can also contact us online with any questions and we will respond promptly.