Furnace Repair
Help Prevent Costly Furnace Repairs in the Long Term – Remedy Your Furnace Problem as it Occurs
If your furnace is more than 14 years old, be prepared to run into some complications. When a furnace begins to reach the end of its lifecycle, it will let off warning signs indicating it is time to call in your HVAC repair guy. You may begin to hear rattling or squealing sounds; you may find the air in your home to be stuffy or stale; you may even experience hot and cold spots around your home. If any of these occurrences sound familiar, have your furnace inspected and repaired right away, as you and your family will be vulnerable to poor air quality and expensive energy bills.
Residential Furnace Repair Services You Can Depend On
Do you find yourself bundling up in your home as soon as the temperatures drop? A furnace that is working to the best of its ability should never cause you to double up on your clothing. In fact, if your furnace is in good working order, you should feel comfortable enough to wear light garments. Having to wrap yourself in blankets is definitely an indication that something is wrong with your heating system. You may also notice a change in the quality of your furnace if your utility bills are on the constant rise. This is because your system is working harder to produce and distribute hot air.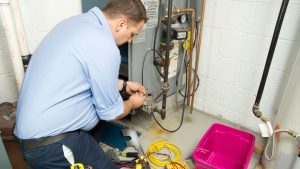 Here are a number of common problems that could be compromising the performance of your furnace:
A malfunctioning thermostat
The breakers, switch, indicator light or fuse may need to be replaced
The inline gas valve may be open
The filter may by clogged
The ignitor may be damaged
There may be a chimney blockage
Schneidecker Heating and Air, Oregon's trusted HVAC company, understands the urgency of having a properly functioning furnace that delivers optimal indoor comfort and safety. Our team of certified technicians have the qualifications and training to repair any brand name furnace, including Trane, Ruud, Rheem, Carrier and Lennox, just to name a few. By thoroughly inspecting your unit with industry-leading equipment, we can easily identify and repair the problem, quickly restoring your home comfort and giving you peace of mind.
If you need a furnace tune-up service we can help.
If your furnace is giving you problems, call Schneidecker Heating and Air at 541-265-3030 to schedule your appointment for furnace repair services. You can also contact us online with any questions and we will respond promptly. We proudly serve customers across Newport, Lincoln City, Toledo and surrounding areas.