Ductless
Install the Latest Ductless Heat Pumps in a Day
Ductless heat pumps can be installed virtually anywhere and within a day. Homeowners also enjoy complete freedom with interior design as ductless models offer a variety of mounting options. In addition to energy-efficiency and the convenience of operating a single system to heat and cool your home, reduced installation cost adds to their popularity.
If you have problems with duct work or are finding the cost of baseboard heating expensive, switching to an energy-efficient ductless heat pump is the ideal solution.
Schneidecker Heating and Air offers a selection of the latest single zone, multi zone and whole house heat pumps from reliable manufacturers such as Daikin, Rheem and Mitsubishi. Whatever the size of your home in Newport, Lincoln city, Toledo, Oregon or the flexibility of your budget, we have a solution for you.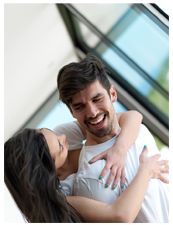 Types of Ductless Heat Pumps
Single zone heat pumps: An ideal solution for heating and cooling a single room or supplementing an existing system as in the case of a new addition. With 6 different systems available, matching your needs is easy for us.
Multi zone heat pumps: These heat pumps are a smart choice for mid-sized homes in Lincoln city, Toledo, Oregon. While multi-splits typically cover 2 to 4 zones, the 8-zone multi-split has expanded capabilities. You can also control each zone independently which allows you to customize your temperatures and save on energy.
Whole house heat pumps: This type of heat pump works well in homes with an area of up to 3,500 sq. ft. Available in a wide range, you have a choice of electric heat or no electric heat as well as sophisticated models like the Daikin Altherma which offers warm floors and integrates your hot water requirements. As with the multi zone heat pumps, each zone has independent controls.
Choosing the right ductless heat pump ensures you will enjoy the comfort and energy savings it was designed to provide. Our heating and cooling experts are known for matching the right systems to a Newport, Lincoln city, Toledo, homeowners' needs. You can count on us to find you the best fit.
Call 541-265-3030 or contact us online to set up a consultation for the latest single zone, multi zone or whole house ductless heat pump for your home in Newport, Lincoln city, Toledo, Oregon.
Quality Ductless Heat Pump Service from Your Local HVAC Expert in Newport, Lincoln city, Toledo, OR
As one of the leading contractors for Daikin, Mitsubishi, Fujitsu, and Ruud Schneidecker Heating and Air assures you of top quality products and stellar customer service. Our trained technicians are meticulous in their work and perform flawless installation and repairs for ductless heat pumps.
Working with our licensed, insured and bonded company gives customers total peace of mind. They know we will work safely and efficiently. In the event that you need ductless heat pump repair, our experts will provide you with a quick diagnosis and the best solution. We look out for your best interests at all times, including letting you know when switching to a newer model will bring you better comfort and savings. Our service plans can help minimize expensive repairs and save on the cost of early replacement of your heat pump.
As the first choice for residential and light commercial heating and cooling solutions in and around Newport, Lincoln city, Toledo, Oregon, you can rely on us to look out for your best interests.
Call 541-265-3030 to get the right advice and select a ductless heat pump for your Newport, Lincoln city, Toledo, Oregon home.