Furnace Tune-Up Services
Help Prevent a Sudden Furnace Breakdown – Opt for Annual Furnace Tune-Up Services from the Pros
Scheduling a furnace tune-up with your local HVAC technicians at Schneidecker Heating and Air can help you avoid running into problems with your equipment when the temperatures reach close to or even below zero. We specialize in installation, maintenance and repair services for all top HVAC brands, including Trane, Ruud, Lennox, Carrier and more.
For over five decades, we have been providing homeowners in Newport, Lincoln City, Toledo and surrounding areas with exceptional furnace tune-up services to ensure optimal efficiency and home comfort. Just like how you regularly maintain your vehicle, your heating system also requires frequent attention for longevity and durability. By having skilled and certified professionals provide this type of service for you, you can rest easy knowing you won't be left out in the cold with a broken furnace.   
Schedule Your Tune-Up Services

Increase the Effectiveness of Your Furnace with Proper Tune-Up Services
When you schedule regular furnace tune-ups with Schneidecker Heating and Air, you can expect honest and high quality workmanship every time. We are familiar with all of the working parts of your furnace and know how to fine tune the system so it can operate at peak performance and provide you with the following benefits: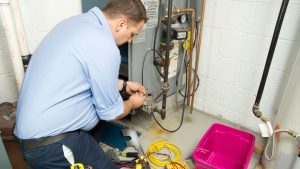 Safe operation. We will provide a full safety inspection to help prevent dangerous issues down the road like carbon monoxide leaks and fire hazards.
A warranty that is intact. Most manufacturers require your furnace to be annually maintained by a certified HVAC technician in order for the warranty to be valid.
Lower heating bills. Regularly taking care of your furnace can help ensure your system is running efficiently for a longer period of time, delivering energy savings year-after-year.    
Reduce your chances of a furnace breakdown. Tune-ups are a great way to detect minor issues, which, if neglected, can become more problematic and potentially cause your system to fail.
Peace of mind. Having your furnace inspected and maintained at regular intervals by an HVAC specialist means you can have reassurance knowing your system is in good hands.  
 
During your tune-up appointment, we will complete a number of procedures to improve the condition of your furnace. These include but are not limited to cleaning and changing your filter; cleaning the flame sensor; tightening electric connections; measuring and adjusting the gas pressure; brushing and inspecting the heat exchanger; cleaning the burners; and inspecting and washing the outdoor coils.
If you suspect there is a problem with your furnace, it is time to have it tuned. Contact Schneidecker Heating and Air at 541-265-3030 to schedule your furnace tune-up appointment. You can also contact us online with any questions and we will get back to you shortly.